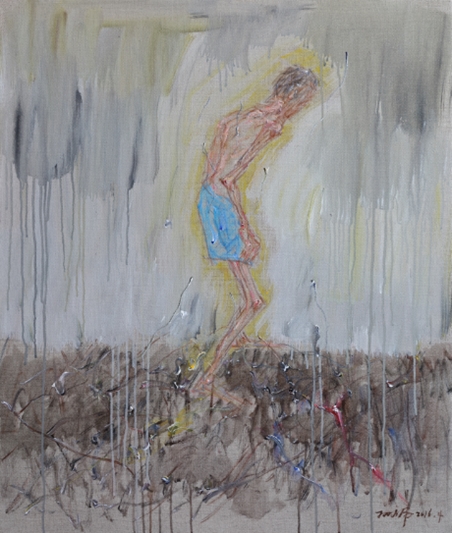 <All living things are bitter. Leave>
In the middle of this painting stands a man who seems to be exploited
and depressed by the tough life, mirroring a profile of a father in Deng's
dream. The painter applied yellow to shelter the skeleton with a sacred
and warm atmosphere, reminding us of the other two artworks of 'father'
in different genres : THE FIGURE, a prestigious prose by Zhu Ziqin and a
oil painting, FATHER, from Luo Zhongli, which portrays a peasant suffering
from his living condition. These three artworks altogether reflect the
development of Chinese modern art, which began at the liberation of
humanity during the New Culture Movement, then the Collectivism in
1980s, and now turned into the Neo-liberalism.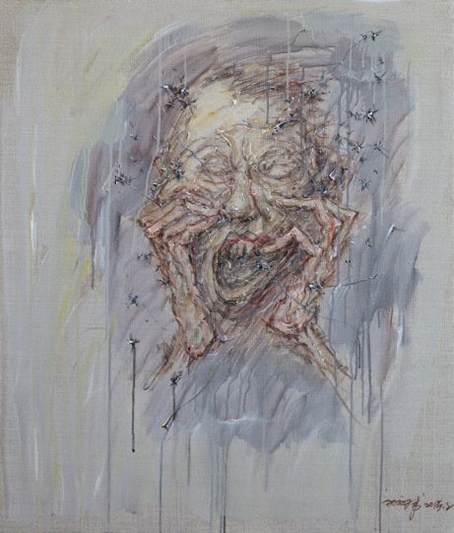 <All living beings. Mad>
This painting shows a figure with an agonized expression against a swarm
of mosquitoes in the center of a mirror which is partly fogged.
Tightly-closed eyes, keen and overlapping teeth dramatically portrays a man
who is drowning himself in craziness. The author made his artwork a
reflection of the reality where most of us got trapped in this negative
situation before.
Deng Shaowei was born in Liling, Hunan Province. When he was young, he
loved to draw and he was greatly influenced by folk lacquerware. He was
admitted to middle school on the basis of his artistic achievements. Later,
he received top marks in art for the city of Zhuzhou, and he was admitted
to Zhuzhou Normal School. He left his job in 1994, traveling alone to Beijing
to begin his twenty-year career in art. In the course of numerous
experiments with various languages, forms, and techniques, Deng has
developed his own mode of artistic expression and garnered a positive
reception from art critics. From 2006 to 2008, he took graduate courses
at the Tianjin Academy of Fine Arts. Currently, he is engaged in creative
activities in Beijing and Changsha. Current, Member of Beijing Youth
international Culture and Arts Association.