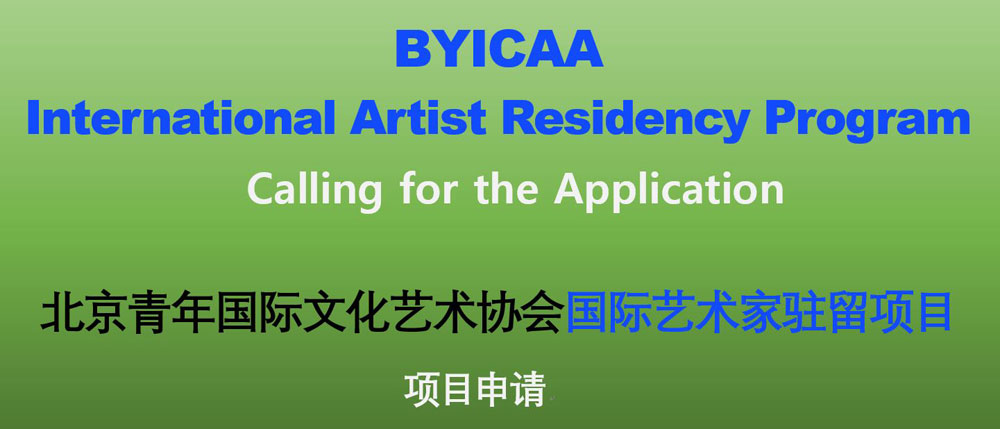 Beijing Youth International Culture
and Arts Association
BYICAA International Artist Residency Program
General information
Brief description of residency program
We are the Beijing Youth International Culture and Art Association.
Non-government organization,we have a legal identity, the founder of the
artist Jie WANG. Our purpose is in the process of urbanization appeared
all sorts of changes, with the art group action to participate in promoting
the growth of civil society.
The BYICAA International Artist Residency program gives artists,
designers, musicians, architects, curators, writers, composers, filmmakers
a place where they can develop ideas, experiment and produce new
artwork. We are also given support to run a workshop to build the network
within the local community.
Residency program since
2014
Disciplines and media
Visual Art
Sculpture
Ceramics
Performing Arts
Music
Literature (novel, poem etc.)
New Media
Animation
Curatorial
Film Making
Architecture
Type of organization
Part of the association (BYICAA)
Residency conditions
Duration of residencies
Between 1 and 3 months
Number of studios
6 studios
Type and size of studios
Each 100 square Artwork space
Private Studio, Shared Studio
Companions allowed
Partners (are only the artist)
Expenses paid by artist
Travel cost
Supplies cost
Residency program's plane ticket cost
Expenses paid by the organization
Artwork studio & Housing room
Provide artist's living cost 200$(US)/every month
Provide lunch and dinner/every day (Chinese food & etc.)
Expectations of the artist
Leading Workshop or Class
Presentation & Exhibition, Open studio
Donation of an Artwork
Participate in the NGO activity's cooperation (Lecture, School Visit etc.)
Cleaning
Grants available
Artists will be requested to agree to conduct creative activities while living in BYICAA and to participate in various events to interact with citizens and local artists. Support to Artists: Participation to the various exchange
programs / donation of Art works (2 works) Requirements: At least basic
English & Mandarin conversation ability.
Application who/how
Application by network registration
On March 1st-30, On September 1st-30 /every year
Selection procedure
By curators of Association
Presentation of artists' work
Exhibition at end of Residency
Description of residency
Setting
Suburb,
Close to the Dashanzi 798 Art zone (15km distance), Songzhuang Art
village (6km distance)
Resources
Internet Connection (Wireless Internet)
Computer (public)
Office
Kitchen
Accommodation
Private Room & Shared Room
Working language(s)
English
Mandarin
Other activities happening at the space
Workshops about culture and arts
Exhibitions
Music concert & movies
Presentations of artworks
International Artist Exchange Programs
Local Community Collaboration Programs
Collaboration with NGO Residency Programs
Cafe/Restaurant
Contact information
Address: Fu Hao village Industrial Park 1-3, Tongzhou District, Beijing, China
Zip code: 101100
Phone: +86-10-5718-7179 (Beijing)
Email: artstudio@byicaa.com
Homepage: www.byicaa.com
北京青年国际文化艺术协会
国际艺术家驻留项目
基本概况
项目简介
我们是北京青年国际文化艺术协会、法人社团、创始人王皆。我们的目的是在城市化进程中出现的种种变化,与艺术团体行动参与促进公民社会的成长。
该北京青年国际文化艺术协会国际艺术家驻留项目给了艺术家、设计师、建筑师、音乐家、作家、作曲家、制片人的策展人,在这里他们可以开拓思路,试验和生产新的工作。我们也提供与支持艺术家的讨论会及建立在当地社区之间的互动与交流。
项目设立
2014
艺术范围
视觉艺术
雕塑
陶瓷
表演艺术(行为艺术)
音乐
文学(小说,诗歌等)
新媒体
动画
策展
电影制作
建筑
组织类型
协会的部分
驻留条件
驻留时间
从1个月到3个月
工作室数量
6工作室
工作室类型
每100平方艺术空间
私人工作室,分享工作室
同伴允许
合作伙伴(只有艺术家)
由艺术家费用
旅行费用
供应成本
参加驻留项目的机票费用
组织所支付的费用
工作室与住宿
提供艺术家的生活成本200美元(美国)/每月
提供午餐和晚餐/每天(中国餐与其他等)
艺术家的期望
参加工作坊
作品发表会与展览,开放工作室活动
艺术品的捐赠
NGO组织活动参与与合作(讲座,参观学校等)
清洗
参加人同意
艺术家将被要求同意进行创造性的活动,而生活在北京青年国际文化艺术协会和参加各种活动的互动与公民和当地的艺术家。支持艺术家:参与各种交流项目/捐赠的艺术作品(作品2)要求:至少基本英语与汉语会话能力。
申请时期与如何申请
通过网络申请登记
每年3月1日-30日,9月1日-30日
参加人选定程序
由协会的策展队
艺术家们的作品发表时期
在项目期间结束后展览
协会的基本情况
位置
郊区:接近大山子798艺术区(15公里的距离),宋庄艺术村(6公里的距离)
办公设备
互联网连接(无线上网)
电脑(公共)
办公室
厨房
住宿
私人房间与共享的房间
工作语言
英语
汉语
在协会的其他活动
关于文化艺术工作坊与分享会
展览
音乐会与电影播放会
作品发表会
诗歌分享会
国际艺术家交流项目
当地社区协作项目
NGO驻留项目的合作项目
咖啡馆、餐厅
联系方式
地址:中国北京市通州区富豪村工业园区1-3
邮编:101100
电话:+ 86-10-5718-7179 (北京)
Email:Email: artstudio@byicaa.com
网站: www.byicaa.com